About Reverse Therapy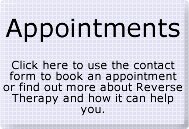 Chronic Fatigue Syndrome/M.E. conditions have long been thought to be incurable but Reverse Therapy has proved that this is not so. Currently, we are seeing average success rates in treatment of over 80% in adults and 100% in children.
Reverse Therapy is a specialised treatment that requires no medication, dietary change or use of supplements. The treatment consists of one-on-one hour long consultations normally 2-3 weeks apart. Our clinical experience so far reveals that about 75% of cases will be complete within 6-8 sessions while the remainder can take longer.
Reverse Therapy works by mutually collaborating with the client in order to understand what it is that Bodymind is trying to tell the individual through the symptoms. It then goes on to consider what actions need to be taken to release the symptom-message.
Jane Terris is a Reverse Therapist working from
Rudgwick, Surrey
. For details of the location of the clinic please visit the
Location Page
.
To book an appointment or to find out more, please visit the Contact Page.
Reverse Therapy effectively treats
Chronic Fatigue Syndrome / M.E.
Fibromyalgia
Depression
Anxiety
Panic Attacks
Eating Disorders
Irritable Bowel Syndrome
Other non-specific illnesses

Post Traumatic Stress Disorder

Phobia's
Sexual Dysfunction
Auto-immune diseases
More about Reverse Therapy
The development of Reverse Therapy follows years of study into Bodymind healing processes by Dr John Eaton PhD, who has now founded Reverse Therapy UK in order to offer the treament throughout the UK.
Reverse Therapy is a Bodymind healing treatment that considers that CFS / M.E. is based on a glandular dysfunction in which symptoms are produced by Bodymind in order to warn and protect the individual from harm. Reverse Therapy works by decoding and acting on symptom-messages, thereby returning the individual to full health.